Jenn Adams with special guest, Lawrence Duncan, of
Drum Brothers
fame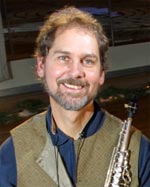 Veteran singer-songwriter Jenn Adams has it all. A powerful, expressive voice, a songwriting language that is clearly her own and a sure-fire command of the stage. Over the last two decades, she's traveled the US performing in listening rooms, coffeehouses, theaters and some of our country's most notable festivals.
She's won top awards from Telluride, Lyons, Kerrville, Falcon Ridge festivals and was recently awarded "Grand Prize Winner" from the USA Songwriting Competition. Having returned to the Northwest music scene (and resettled in Missoula) with an extraordinary backlog of experience and craft, she is widely regarded as one of the most riveting performers on the acoustic circuit.
Lawrence's contribution to the Drum Brothers ensemble is anchored in 25 years of professional woodwind and vocal performance.
He is comfortable in diverse musical idioms with saxophone, harp, flutes, and ethnic percussion. He's sure to bring a nice touch to Jenn's songs.
Suggested Donation: Advance $15, $20 Door

Potluck: 5 p.m. (Please bring a covered dish and your favorite beverage. No desserts please;-)
Showtime: 7 p.m.

Advance reservations are appreciated. Please make check payable to Jenn Adams and mail to:

Jay Toups
7245 Lapwai Lane
Darby, MT 59829